About the Diocese of Rockville Centre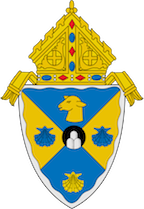 We in the Diocese of Rockville Centre make up the Roman Catholic Church of Long Island.  As a sacramental community, we are one with the Catholic Church throughout the world, while here at home we are united under our Diocesan Bishop, Bishop John O. Barres to live the Gospel of Jesus Christ as one family of faith and to celebrate this life in our liturgy, sacraments, prayer and service.  Facts and Figures 
The Diocese of Rockville Centre was formed from the Diocese of Brooklyn in 1957, and covers 1,198 square miles in Nassau and Suffolk counties.
The Diocese of Rockville Centre by reason of population is the eighth largest diocese (inclusive of archdioceses) in the United States.

 

The diocese serves approximately 1.3 million baptized Catholics (total population in Nassau and Suffolk counties is approximately 2.5 million people).*
The Roman Catholic Church on Long Island is comprised of 133 parishes (plus one campus parish) in 115 towns as well as the Diocesan corporation, headquartered in St. Joseph's Villa on the grounds of Catholic Health – Mercy Hospital – 992 N. Village Ave. Rockville Centre, N.Y. 11570
The Diocese is blessed with 328 priests: 160 active diocesan, 667 religious women, 54 Brothers and 273 permanent deacons.
Liturgical and Sacramental (2021):  
Receptions into the Church:

7,436 infant baptisms (up to age 7)
444 minor baptisms (between ages 7 and 17)
673 adult baptisms (18 and over)
74 received into Full Communion

 

9,422 First Holy Communions

 

9,402 Confirmations
Marriages:

1,052 Catholic
431 Interfaith

Catholic clergy and community provided consolation to families and loved ones of 12,544 deceased Catholics
Catholic Cemeteries: 
Catholic Cemeteries, comprised of 4 diocesan and 20 parish cemeteries, exists to meet the needs of individuals and parishes in the Diocese of Rockville Centre in preparation for, at the time of, and following the death of a loved one.

 

The ministry Catholic Cemeteries provides extends into the area of liturgy, prayer, comfort, support, grief and evangelization.

 

Its ministry is rooted in the reality of the human person as an embodied spirit.

 

That embodiment is sacred, for it locates the human spirit in history and in place.
Communications:
The diocese maintains Facebook, Twitter and Instagram social media platforms. Catholic Faith Network broadcasts 24/7/365. The diocesan website averages 18,000 unique visitors each month. The diocese publishes a weekly enewsletter – Diocese of Rockville Centre E-News.
Education: 
In the 2022-2023 school year there were 11,054 students enrolled in 35 Catholic elementary schools (31 parish or regional and 4 private)
In the 2022-2023 school year there were 10,093 students enrolled in 9 Catholic high schools (2 diocesan, 2 parish and 5 private high schools)
99 percent of the graduates from the Catholic high schools go on to college
4,883 undergraduate and graduate students studying at Molloy University in Rockville Centre
13 diocesan seminarians in formation
Faith Formation: 
We are a Diocese with over 57,364 elementary and high school students in parish faith formation programs.

 

Through the ongoing efforts of pastoral staff and volunteers, we prepare engaged couples for marriage and parents for the Baptism of their children.
We work for the inclusion of persons with special needs in faith formation and parish life.

 

Parish and diocesan programs provide ongoing formation in the faith for our adult members.
Health Care: 
Catholic Health (CH) (www.chsli.org) is an integrated health care delivery system with some of the region's finest health and human services agencies. CH includes six acute care hospitals, three nursing homes, a home health service, hospice and a network of physicians practices, multiservice, community-based agency for persons with special needs. About 17,000 employees work within the CH system assisting over one million in-patients and out-patients annually.

 
Evangelization and Catechesis:
Hundreds of thousands are brought to a closer relationship with God through the work of the ministries of the Office of Evangelization and Catechesis, including: the Office of Faith Formation, the Office of Human Life, Family and Bioethics, Multicultural Diversity, Youth Ministry and Catholic Scouting.
Social Services: 
Catholic Charities of Long Island (www.catholiccharities.cc) provides Care with Dignity — Life with Hope to the poor.

 

In 2021, staff members and volunteers provided over 1.3 million face-to-face services to an average of 58,000 people of all faiths and backgrounds from 53 service sites in Nassau and Suffolk counties.

 
For more please information visit: www.drvc.org
*Source: The Official Catholic Directory 2022.