In a press conference on July 25, 2022, open only to pre-registered and pre-qualified media, Secretary of Health and Human Services (HHS), Xavier Becerra, released a 308-page proposed rule titled Section 1557 Nondiscrimination in Health Programs and Activities.
According to Secretary Becerra, the new rule will return Section 1557 of the Affordable Care Act to the original 2016 HHS rules. It will also implement guidance from President Biden contained in three recent executive orders.
The Catholic Benefits Association (CBA) downloaded the proposed rule and began what will be a careful and deep analysis. CBA has beaten back the Obama Contraceptive Mandates as well as the original 1557 regulations and gained permanent injunctive relief from them to the benefit of CBA's current and future members. In the coming days CBA will provide a detailed legal analysis of this rule.
The Catholic Benefits Association
Founded in 2013, the Catholic Benefits Association (CBA) advocates for and litigates in defense of its members' First Amendment rights to provide employee benefits in a manner consistent with the Catholic faith. A growing and diverse coalition of Catholic organizations comprise the CBA.
CBA obtained federal injunctive relief from the Health and Human Services' implementation of the Affordable Care Act for current and future members. Introduced in 2012, this mandate requires employers to cover contraceptives, abortifacients, sterilization procedures and contraceptive counseling in their employee health insurance.
Since then, CBA has worked to confront issues that directly infringe upon the freedom of Catholic employers to conduct business in a manner consistent with their sincerely held religious beliefs.
As the legislative and regulatory landscape continues to shift, CBA provides guidance to its members to strengthen their Catholic identity in the workplace. When necessary, CBA engages in legal advocacy to preserve the right to do business in a manner consistent with the Catholic faith.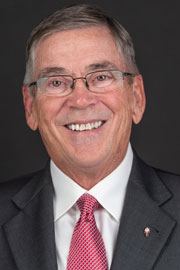 CEO – Doug Wilson
Leading CBA is its CEO, Doug Wilson, Jr.  Wilson is a Marine and Viet Nam Veteran.  Doug Wilson majored in English Literature at Georgia State University where he also completed his Master's in Healthcare Administration. He went on to make a career of reviving struggling hospitals around the United States. Subsequently, he led the start-up and growth of two new healthcare technology companies. Since 2014 he has served as the first CEO of the Catholic Benefits Association advocating, supporting, and litigating for the rights of Catholic Employers in the areas of employment and healthcare benefits.
CFN Interview of Catholic Benefits Association CEO
Recently, Rev. Msgr. James Vlaun, CEO and President of Catholic Faith Network interviewed Doug Wilson.  Click here to watch this interesting interview.
CFN Live – Doug Wilson from CFN on Vimeo.