---
The Mass of Transferral for Bishop Emil Wcela on Thursday, May 26, 2022, at 7:30 p.m.,
will be live-streamed on the Church of St. John the Evangelist Facebook page:
https://www.facebook.com/john.church.5439087
---

Humble Man, Scripture Scholar, Faithful Pastor and Dedicated Bishop – Bishop Emil Wcela
By Mary Iapalucci.  Edited by Sean P. Dolan.
Most Reverend Emil A. Wcela, D.D., former auxiliary Bishop of the Diocese of Rockville Centre died on May 21, 2022. He was 91 years old and served the Diocese of Rockville Centre for more than 65 years as a priest, pastor, teacher, rector and auxiliary bishop.
A noted scripture scholar, he was the author of six books in a Bible-study series, "God's Word Today," and has published articles in many publications. For many years, Bishop Wcela wrote a scripture column in The Long Island Catholic newspaper "Word of God," which was honored numerous times with awards from the Catholic Press Association. He also contributed regular columns on books and current issues.
"We give thanks to Almighty God for the life and priesthood of Bishop Emil Wcela," said Most Reverend John O. Barres, Bishop, Diocese of Rockville Centre. "A humble man, fine Scripture scholar, faithful pastor, and dedicated bishop, he served the people of the Diocese of Rockville Centre for over 65 years in our parishes, the work of priestly formation as professor and Seminary Rector, and as Vicar of the Eastern Vicariate. His passion for the Word of God inspired generations and helped many to know the love and mercy of God. May his soul rest in peace."
"Bishop Wcela's great intellect which he used to open up our minds and deepen our understanding of the Word of God was proven time and again as a seminary professor and Rector of our Seminary in Huntington," said Most Reverend William Murphy, Bishop Emeritus, Diocese of Rockville Centre.
"Our priests who studied there as seminarians are a testimony to his skills as teacher both an intellectual and spiritual guide. As a pastor, he used all his energies to serve the People of God. His was not just intellectual wisdom. Equally he was a kind and generous pastor who knew how to listen to his people and offer to them the merciful love of God. To me he was a faithful counsellor and always a supportive friend," said Bishop Murphy.
As a bishop, Bishop Wcela served on numerous committees for the national bishops' conference including as a member and then chairman of the committee on pastoral practice and chairman of the ad hoc committee on the age of confirmation
Emil Aloysius Wcela was born in Bohemia, NY, on May 1, 1931. He attended St. John Nepomucene School there, Seton Hall High School in Patchogue. He studied at St. Francis College, Brooklyn, for two years before entering the Seminary of the Immaculate Conception in Huntington. He was ordained to the priesthood on June 2, 1956, shortly before the Diocese of Rockville Centre was established in 1957.
Bishop Wcela also earned a master's degree in Classical Studies from Fordham University, the Bronx, and a Master's in Semitic Studies from The Catholic University of America in Washington, DC. He earned a licentiate in theology from CUA and a licentiate in Sacred Scripture from the Pontifical Biblical Institute in Rome. He also studied at Ecole Biblique in Jerusalem.
After serving as associate pastor of Maria Regina church, Seaford, he was appointed in 1959 to the faculty of St. Pius X Preparatory Seminary, Hempstead, where he taught Latin. During this time, he also served as chaplain of the Newman Club at Hofstra University, also in Hempstead.
In 1965, Bishop Wcela was assigned to the faculty at the Seminary of the Immaculate Conception in Huntington where he served as rector from 1973 to 1979. He was also the director of ongoing formation of priests from 1969 to 1975.
In 1980, he was named an honorary prelate to His Holiness, Pope John Paul II with the title "monsignor." The same year, he became pastor of St. Joseph's Church, Garden City. He served there until 1987.
In January 1988, he was assigned to the new parish of Resurrection Church in Farmingville. On October 25th, 1988, Pope John Paul II appointed him auxiliary bishop of the Rockville Centre Diocese. He was ordained along with Bishop John Dunne on December 13th, 1988, at St. Agnes Cathedral in Rockville Centre. He served as vicar for the Eastern Vicariate of the diocese until his retirement on April 3, 2007.
Bishop Wcela chose as his episcopal motto "Grace and Peace," which is used as an introduction in all but one of St. Paul's epistles. He said he chose the motto because he "wished to express to all of God's people that it is with and through God's grace and peace that we come to know, love and serve God and each other."
"Rockville Centre is a remarkable diocese in many ways – in the talents of its people, in the vitality of the life of its Church, in its sheer size." Bishop Wcela said at the time of his episcopal appointment. "It offers both tremendous challenge and tremendous opportunity…. I am grateful to all in the diocese who over the years have shared ministry with me or encouraged me by their faith and their example."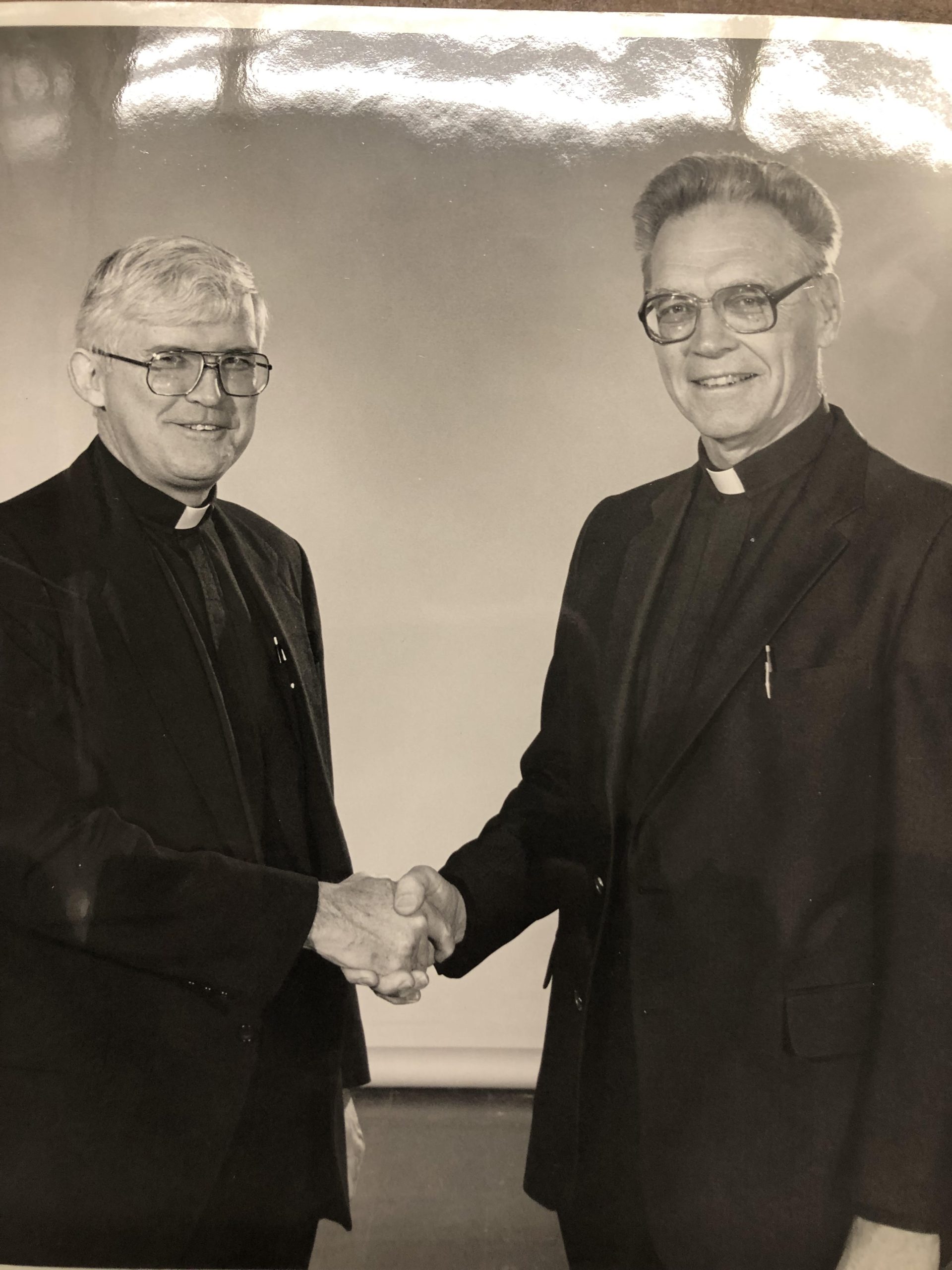 Following his ordination, along with Bishop John Dunne, as auxiliary bishop on December 13, 1988, at St. Agnes Cathedral, Bishop Wcela served as vicar for the Eastern Vicariate of the diocese.
When he marked the 50th anniversary of his ordination in 2006, Bishop Wcela reflected on his varied priestly assignments in an interview with The Long Island Catholic newspaper. "I was always trying to serve the Lord however I could. When you are teaching, there are certain things you can't do as much. When you are a pastor, you have less opportunity to teach. You can't do everything at once, but you concentrate on serving God in the work you are doing."
Bishop Wcela recalled that he was attracted to the priesthood at an early age, but also considered other options. He was influenced by his family which was deeply involved in the Church. His father, Emil, played the organ and was an usher. His mother, Albina, was president of the Altar Society.
Following his retirement in June 2007, Bishop Wcela continued to live at St. John the Evangelist parish, Riverhead, where he assisted at the parish and remained active at events throughout the diocese. He was a sought-after speaker for parish missions and other events.
When churches closed during the Covid-19 pandemic, Bishop Wcela made numerous videos with St. John's pastor, Father Larry Duncklee, that were shared on social media and YouTube to continue to educate and keep up the spirits of the faithful.
Brother and sister-in-law, Joseph and Barbara Wcela, live in Florida. Bishop Wcela's mother, Albina Kovarik Wcela, passed away in 1996, and his father, Emil died in 1970.
"Bishop Wcela was a great scholar, wonderful preacher, wise administrator and more than anything, a praying person who revealed in his life the relationship with God that his prayer helped to deepen," said Father Larry Duncklee, pastor, Parish of St. John the Evangelist, Riverhead.
"He was such a great inspiration to so many, me included. He also had one of the quickest wits and could reply with a wry sense of humor or with a very intelligent remark grounded in faith, theology or the world's events. At all times he would be reading three or more books, nestled on his nightstand or table by his sitting chair. One was always scripture, another was usually some other theological matter and the other two were inspirational and then either novel, fiction or biography.
"A real farmer, he loved the outdoors, planting flowers and especially caring for our rose bushes. He always fed the birds with tree houses he nailed or hung up. He was faithful in visiting the sick, even during the COVID pandemic. We bonded a lot during that time. He always had time for someone who came by, even unannounced, for confessions or to see a priest. He exercised regularly, more than me and never missed a meal. He was a non-intrusive mentor and offered advice as an equal, not one in authority. What amazed me was seeing a few men (old tough farmers and others) crying and actually saying they loved him," said Father Duncklee.
-30-