Chiarelli's Religious Goods Inc. Announces Program with DRVC
Chiarelli's Religious Goods, is a leading supplier of ecclesiastical goods . Established in 1938, Chiarelli's is a third generation family owned business that has served the religious community and public for 80 years.
Chiarelli's is honored to have been chosen as a provider of religious goods to the Diocese of Rockville Centre and to parishes and schools within the diocese.
Chiarelli's takes pride in our customer service. Our staff is always friendly, courteous, and knowledgeable. Our employees are extremely dedicated to their positions. All our representatives are ready to answer your questions and assist you with your order.
Chiarelli's has implemented an aggressive pricing structure for the the Diocese of Rockville Centre and parishes and schools within the diocese. Ordering is convenient and easy through our many methods, phone, fax, email or website www.chiarellis.com. Chiarelli's also has an extensive catalog, which if requested can be mailed out to you. Although the pricing listed in our catalog and on our website is not discounted, you may call to ask about special pricing.
Additional Services Provided By Chiarelli's
Church Renovations-we will be glad to assist in your liturgical commission and architect.
Religious Art Restoration– statues and other items can be brought back to first quality condition by area artisans.
Sacred Vessel Restoration– allow craftsmen to preserve the dignity of your chalices, monstrance, candlesticks, tabernacles and other sacred vessels.
Custom Statuary & Vestments– sketches, quotations, and referrals provided.
Pew and Kneeler Restoration– from minor repairs to complete refinishing
Fitting of Liturgical Garments (including choir and altar servers)- we will visit your church to properly measure your members for their liturgical vesture.
Sanctuary Supplies/Furnishings-altars, chairs, cushions and pews all done to your specifications.
Candle Stands-custom electric votive and votive stands.
Tree of Life Donor Program-profitable way to bring revenue into your parish and to commemorate parishioners that have shown true devotion to the church. Many customizable options to make your visions a reality
Liturgical Books/Religious Books-let us provide for you all your necessary liturgical books throughout the liturgical year as well as any religious or non-religious books you may be interested in. We also carry a full line of CDs and DVDs for educational and recreational purposes. Spanish and other languages are offered please inquire. Discounts for schools and books clubs are available.
Standing Orders– we will keep record of your order to ensure delivery
Please note if you are currently not an existing customer at Chiarelli's please be so kind as to forward the attached application as well as a tax-exempt form to our accounting department.
Placing orders are hassle free, most in stock items ship same day.
Please contact Frank Chiarelli or John Chiarelli.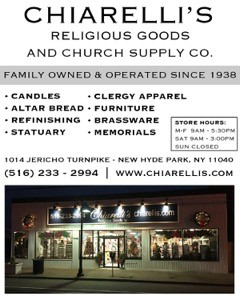 Frank Chiarelli
Store – 516-233-2994
Cell – 516-457-1808