NEW PRINCIPALS ASSUME LEADERSHIP ROLE IN PARISH AND REGIONAL SCHOOLS IN THE DIOCESE OF ROCKVILLE CENTRE

ROCKVILLE CENTRE, NY – August 30, 2023 – The Diocese of Rockville Centre Department of Education and the Morningstar Initiative recently announced new principals assuming leadership roles in its parish and regional schools.
The new principals and their schools include:
John-Paul Barnaba, Long Beach Catholic Regional School, Long Beach
Rebecca Darmanin, St. Patrick School, Smithtown
Thomas J. Fasano, St. Anne's School, Garden City
Marcia Velasco, Holy Name of Mary School, Valley Stream
"We welcome these new principals into the Catholic administrative community," said Pamela Sanders, superintendent of schools, Diocese of Rockville Centre. "Our office will work closely and support them in their efforts to continue the long tradition of excellence in Catholic education."
John-Paul Barnaba, Principal of Long Beach Catholic Regional School, Long Beach
John-Paul Barnaba comes to Long Beach Catholic after having served as Principal of the Academy of Saint Paul and Saint Ann in Manhattan.  Previously, he served as Principal of Our Lady of the Assumption School in the Bronx.  Barnaba grew up on Long Island and is a product of Catholic education, having graduated from St. Anthony's High School, Huntington, N.Y.
He possesses master's degrees in public policy from Stony Brook University, Stony Brook, N.Y., and in school leadership from St. John's University, Queens, N.Y.  He is also a graduate of the Current Academy (School Leadership Development Program run in partnership with the Diocese of Brooklyn and the Archdiocese of New York).  He currently serves on the executive board of the Catholic School Administrators Association of New York.
"I look forward to not only being a school leader at Long Beach Catholic, but also being an adoptive member of the Long Beach community," said Barnaba.
Rebecca Darmanin, Principal of St. Patrick School, Smithtown
Rebecca Darmanin has served in various capacities at St. Patrick's School in Smithtown for the past 21 years.  From 2020 she served as Assistant Principal, and prior to that, she has served as a classroom teacher.  Darmanin earned a bachelor's degree in elementary education from St. Joseph's College in Patchogue, N.Y., and a master's degree in child and family development and post-graduate certificate in district leadership from Stony Brook University, Stony Brook, N.Y.
"For the past 21 years, St. Patrick School in Smithtown has been my home," said Darmanin.  "I have grown in my craft, worked with amazing colleagues, developed
life-long friendships and grown in my faith.  I am where God wants me to be at this moment and excited that he has allowed me to be an instrument in His divine plan."
Dr. Thomas Fasano, Principal of St. Anne's School, Garden City
Dr. Thomas Fasano began as a high school social studies teacher, baseball coach, and mock trial club advisor in the late 1980s.  He was appointed Dean of Students at Massapequa High School in 1995.  He was then appointed Assistant Principal at Kings Park High School in 1998 and then Principal in 2000.  Fasano earned his doctorate in educational administration from St. John's University, Queens, N.Y.
He was appointed Assistant Superintendent for Human Resources in the Massapequa School District in 2008, then Assistant Superintendent for Curriculum and Instruction in 2010 until his retirement from the public school system this past July.  Dr. Fasano graduated from Chaminade High School, Mineola, N.Y., and then St. John's University, Queens, N.Y., earning a bachelor's and master's degree in history.
"I am honored to have the opportunity to return to my roots as principal, and in particular, to support the continued growth and success of the faith-based, family-centered learning community long established here at St. Anne's school," said Dr. Fasano.  "Parents and staff are clearly committed to their children's school and to the St. Anne's parish community." 
Marcia Velasco, Principal of Holy Name of Mary School, Valley Stream
Marcia Velasco has nearly 25 years of experience as a teacher, administrator, and curriculum writer.  She has worked at the elementary, middle school, and high school levels.  As a teacher, she taught English Language Arts and Social Studies.  As an administrator, her focus was on student academic growth and student discipline.
In a letter to Holy Name of Mary School families, Velasco said: "The morals, values and lessons that are taught in Catholic schools (in partnership with what is taught at home) are key for a child's development and success.  I am committed to making sure that these morals, values, and lessons remain at the forefront of your child's education."
Marcia Velasco earned a bachelor's degree in Liberal Studies from SUNY Purchase, a master's degree in education from Mercy College, and a certificate in school management and leadership from Harvard Graduate School of Education.
The Morning Star Initiative
Initiated in January 2020, the Diocese of Rockville Centre's Morning Star Initiative (MSI) is a bold plan of Catholic evangelization (living and sharing the Gospel) for the revitalization of Catholic elementary education.  In partnership with the Marianists and with the support of the Tomorrow's Hope Foundation, the Morning Star Initiative aims to position Catholic education for a bright future, with a community of strong, expanding, and sustainable schools spread across Long Island.
For more information on MSI visit: The Morning Star Initiative Renewing Our Schools – Catholic Schools of Long Island, NY (licatholicelementaryschools.org).
---
Catholic Schools in the Diocese Getting Ready for September Openings
The first day of school is fast approaching.  Throughout the summer, many of the elementary and high schools have been busy with enhancements and improvements. Here's a look at how some are getting ready.
St. Dominic High School, Oyster Bay
St. Dominic High School (stdoms.org)
Students in St. Dominic High School's Molecular and Genomic Research class are gearing up for another exciting year with Barcode Long Island!
As part of this unique relationship with Cold Spring Harbor Laboratory, 11th graders in the STEM program spend 8th and 9th period every day of their first semester at the DNA Learning Center.  Students work in teams to design a research project focusing on an ecologically important species on Long Island.  They then collect specimens in nature and record and photograph those specimens in the lab.
Finally, they extract, amplify, and analyze sections of specimen DNA using PCR, gel electrophoresis, and genetic databases like BLAST. In the second half of the year students construct their final reports and posters to present at the lab's annual research symposium.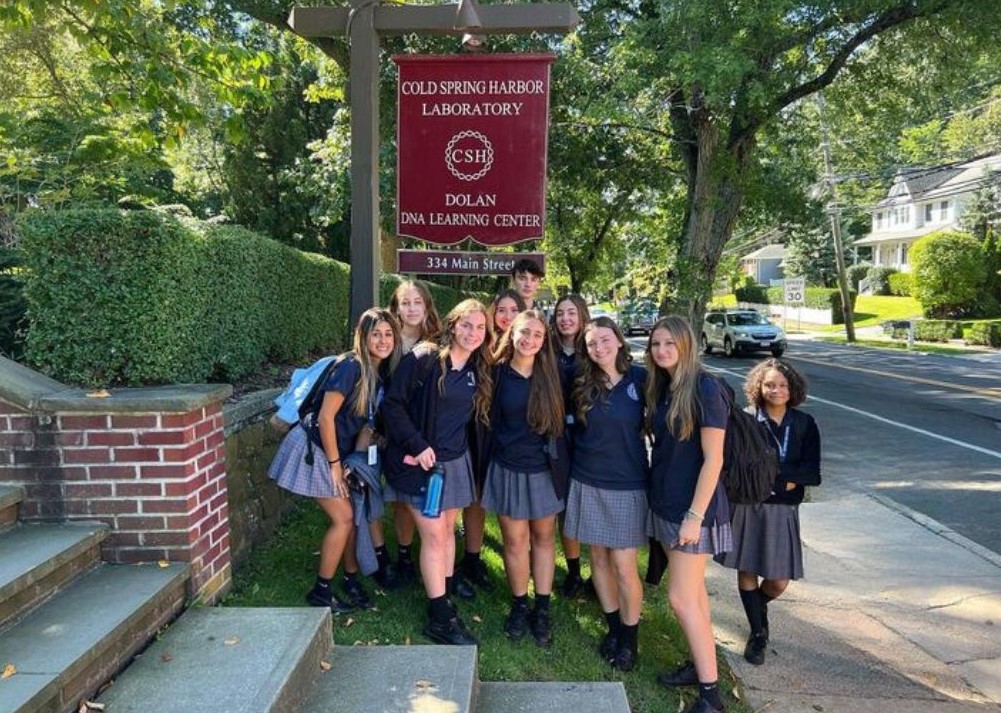 St. Dominic High School is blessed to be located so close to Cold Spring Harbor Laboratory, one of the labs that is instrumental in developing the field of molecular genetics. Several St. Dominic students who have participated in the program have continued independent research at the lab as seniors, on their college campuses, gone on to work at Cold Spring Harbor Lab, or simply state that the experience helped shape their career path.
St. Dominic's is also excited to announce that it has hired a new campus minister. Zoey Paulson is a recent graduate of LIU Post where she studied music and was very involved in the Newman Catholic Center.  She will be leading St. Dominic's ministry efforts this year and is very zealous and enthusiastic about her Catholic faith.  She will bring a fresh and vibrant approach to ministry.  With a lot of new ideas, she will be helping to grow our retreat program, build meaningful relationships with students, and begin a choir for its weekly school Masses. 
Our Lady of Mercy Academy, Syosset
Our Lady of Mercy Academy | All-Girls Catholic High School (olma.org)
Our Lady of Mercy Academy has brand new interactive boards that have been installed in every classroom.  A new Media Center has been completed and ready for full use this year.  It is equipped with Apple Computers, TV screens, interactive boards, two Promethean interactive touch tables, a correspondent desk and green screen.  The students will all be receiving Chromebooks.  The wood floors in the dance studio and gym are being sanded and polished, ready for a new school year.
Catholic Health Services Partnership – The St. Francis Hospital and Heart Center High School Education Internship Program is a new opportunity for our students to study and shadow doctors at St. Francis Hospital. The students will earn an elective half credit upon completion of internship.
Our Lady of Mercy will have a new food service provider, it started mid-year last year. Chef Rich creates an inviting atmosphere for everyone, plays music at lunch and nourishes the students with a delicious variety of foods. He has a cheerful personality, and the food definitely enhances the school community.
OLM is hosting a trip to Italy in February. International trips were stopped because of Covid, and this trip marks a return to normalcy.
OLM is also introducing Competitive Cheerleading this year. Many students have been waiting for this and are very excited to be able to cheer for Mercy.  The school will be introducing the AP Capstone Program this year. It is a 2-year AP research class.